Project leaders: Dr Melissa Byrne and Professor David Kaye
The association between heart failure and heart rhythm disturbances are well known and frequently accompanied by adverse outcomes. For example, atrial fibrillation, which causes an irregular heart rhythm is known to exacerbate heart failure and worsen outcome.
In patients with AF, a treatment goal is generally to control heart rate (using drugs such as beta-blockers or digoxin) or rhythm (by medication such as amiodarone or catheter ablation). Regardless of adequate control of heart rate, AF is associated with an accelerated rate of HF progression and we have previously shown that the induction of AF depresses left ventricular (LV) function and activates myocardial neurohormones. However, the underpinning mechanisms linking AF and LV dysfunction remain unclear.
Our studies have identified key changes in heart proteins, which develop early in atrial fibrillation that lead to reduced pumping capacity. We aim to determine the cellular and molecular effects of irregular ventricular rhythm (due to AF), with specific emphasis on cardiac mitochondrial function and calcium handling, with an emphasis on examining new therapeutic targets.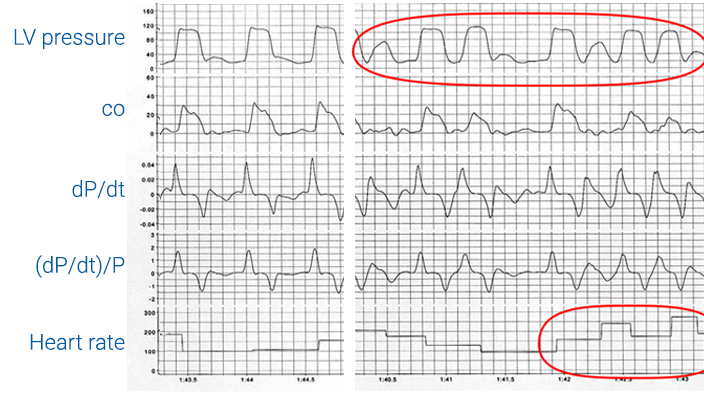 Pressure trace of the left ventricle in normal rhythm vs irregular rhythm indicating reduced pump function and increased heart rate.